Upcoming exhibits
The Old Post Office Museum is proud to host a number of excellent exhibits all year. Check below to see our current schedule of exhibits.
Looking for the past exhibits archive?
Current exhibit
The Pelican State Goes to War: Louisiana in World War II
Exhibit runs: April 4, 2019 — June 7, 2019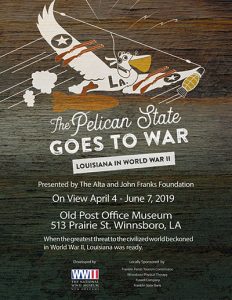 Exhibit opening reception is Thursday, April 4, 2019 from 5:oopm – 7:00pm.
Presented by The Alta and John Franks Foundation. When the greatest threat to the civilized world beckoned in World War II, Louisiana was ready. Massively important production, crucial military training, and enthusiastic citizens saw Louisiana at the forefront of US defense preparations. See how Louisiana helped achieve victory in World War II—and how the war that changed the world forever changed Louisiana, too.
Many thanks for our local sponsors: Franklin Parish Tourism Commission, Franklin State Bank, Fussell Company, and Winnsboro Physical Therapy.
Perennial exhibits
Historic Mural

Painted in 1939 by Datus E. Myers, called "Logging in the Swamps." It is one of one thousand murals that was commissioned for new post office buildings between 1934 – 1943 as part of the Works Progress Administration (WPA) and the Federal Arts Project. Typically they were painted for the purposes of "community uplift," and dominant themes included the celebration of local farm life, technological optimism, historical scenes and community cooperation. More often than not, people are shown coming together to survive one of the hardest economic periods in American history.
"Logging in the Swamps" is a tribute to the time when Franklin Parish was timber country, and depicts two loggers, standing in flatbottom boats, working a cross-cut saw to fell a tree.
The Vault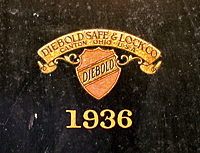 Within the vault are historic treasures of Franklin Parish, including the scrapbooks of Nell McLemore, which were donated to the museum by the McLemore family, as well as artifacts and snapshots of the past. Those making historic donations to the museum can rest assured that their treasures will be preserved and perhaps utilized in future exhibits.
A desk and study area has been arranged in the vault, where visitors can read and research at their leisure.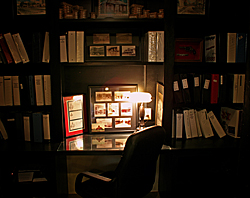 Handpainted Louisiana Flag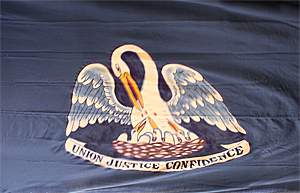 A large 10' by 6' Louisiana flag is now displayed in the lobby. It was a donation from Jimbo Stephens' family. Was originally handpainted in the late 20's, early 30's by Angola inmates and presented to Governor Huey Long, who later gave it to Governor Earl Long, then John McKeithen, then Sheriff A.J. Stephens.
Hours of Operation
9:00 AM — 5:00 PM | Monday — Friday
Or call for appointment
Admission is free
Location & Map
513 Prairie Street, Winnsboro, LA 71295
Get directions »