Upcoming exhibits
The Old Post Office Museum is proud to host a number of excellent exhibits all year. Check below to see our current schedule of exhibits.
Looking for the past exhibits archive?
Current exhibit
Greg Cartmell Collection
Exhibit runs: June 1, 2017 — August 3, 2017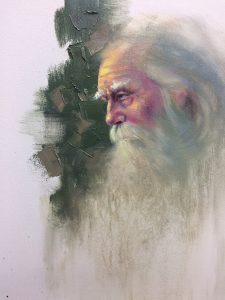 A professional artist for over 45 years, Greg Cartmell is nationally recognized as one of the country's foremost landscape painters. Cartmell's works are in private and corporate collections throughout the world and he has been published in numerous journals, such as Art & Antiques, Architectural Digest and Mississippi Magazine.  He is also known for his portraits and has done many noteworthy commissions, including Former First Lady Barbara Bush, U.S. Senator John Stennis and Mississippi Governor Haley Barbour.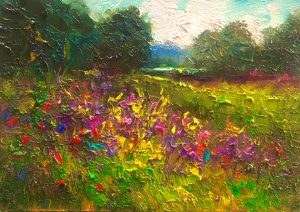 Greg Cartmell paints en plein air, meaning in the tradition of on-location painting, directly from nature. A true impressionist, Cartmell paints in broken color, inviting the viewer to mix the color with one's own eye.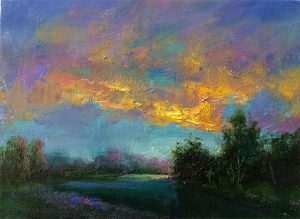 Cartmell lives in Meridian, MS, where he has a studio and teaches art to adults. He will be conducting a workshop at the Old Post Office Museum in Winnsboro, LA on July 1, during his exhibit there. Details will be announced soon.
TBA
Exhibit runs: August 24, 2017 — October 13, 2017
TBA
Oh Christmas Tree!
Exhibit runs: November 18, 2017 — January 5, 2018
"Oh Christmas Tree!" will be opening on November 18th and go until January 5th.
Perennial exhibits
Historic Mural

Painted in 1939 by Datus E. Myers, called "Logging in the Swamps." It is one of one thousand murals that was commissioned for new post office buildings between 1934 – 1943 as part of the Works Progress Administration (WPA) and the Federal Arts Project. Typically they were painted for the purposes of "community uplift," and dominant themes included the celebration of local farm life, technological optimism, historical scenes and community cooperation. More often than not, people are shown coming together to survive one of the hardest economic periods in American history.
"Logging in the Swamps" is a tribute to the time when Franklin Parish was timber country, and depicts two loggers, standing in flatbottom boats, working a cross-cut saw to fell a tree.
The Vault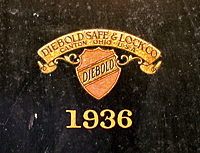 Within the vault are historic treasures of Franklin Parish, including the scrapbooks of Nell McLemore, which were donated to the museum by the McLemore family, as well as artifacts and snapshots of the past. Those making historic donations to the museum can rest assured that their treasures will be preserved and perhaps utilized in future exhibits.
A desk and study area has been arranged in the vault, where visitors can read and research at their leisure.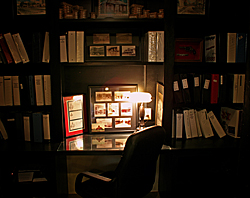 Handpainted Louisiana Flag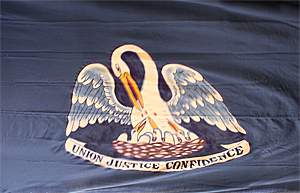 A large 10' by 6' Louisiana flag is now displayed in the lobby. It was a donation from Jimbo Stephens' family. Was originally handpainted in the late 20's, early 30's by Angola inmates and presented to Governor Huey Long, who later gave it to Governor Earl Long, then John McKeithen, then Sheriff A.J. Stephens.
Hours of Operation
9:00 AM — 5:00 PM | Monday — Friday
Or call for appointment
Admission is free
Location & Map
513 Prairie Street, Winnsboro, LA 71295
Get directions »
Upcoming exhibits
August 24, 2017 — October 13, 2017
TBA

November 18, 2017 — January 5, 2018
Oh Christmas Tree!

See archive of past exhibits »
Local attractions
Useful links