Current exhibit
Hometown Teams: Celebrating Local Sports
Exhibit runs: March 19, 2016 — April 30, 2016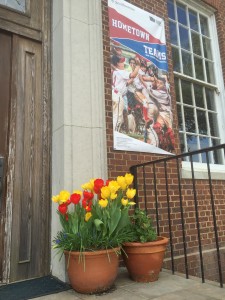 Hometown Teams: Celebrating Local Sports, in cooperation with The Smithsonian Institute & LA Endowment for Humanities, will be opening on March 19th and go until April 30th.
Two of the most popular features of the Hometown Teams exhibit on display now through April 30 at the Old Post Office Museum are DVDs of the 1960s and '70s Winnsboro high School marching band and the history of football in Franklin Parish since 1922. Come see these and much more at this Smithsonian Institution Traveling Exhibition Service and Louisiana Humanities-sponsored exhibit. Incredible!!!
News & events
2016 Antique Car Show
Article posted March 28, 2016 at 1:34 PM
2016 Antique Car Show Saturday, April 9 – Winnsboro, Louisiana In front of Winnsboro City Hall on Highway 15! See contact information below ARRIVAL TIMES Two arrival times: 1) Arrive at North Gate along Highway 15 prior to 7:30 a.m. 2) Gather in Walmart parking lot on north end of Winnsboro for police escort promptly at […]
OPOM Honor Tree Donation
Article posted November 26, 2014 at 11:59 AM
When making your list and checking it twice this holiday season, please keep The Old Post Office Museum in mind! Many people for whom you purchase gifts would truly appreciate a donation to The OPOM made in their name as a way to share in the good things happening at this unique local museum. Or, […]
Old Post Office Museum open for visitors
Article posted August 2, 2013 at 4:25 PM
After years of planning and a renovation, the Old Post Office Museum opened its doors to the public Saturday, October 2, 2010. The grand opening, from 5 to 7 p.m. at the historic downtown post office, featured an exhibition by Winnsboro artist Margaret Mays Ellerman, said Winnsboro Main Street Manager Kay LaFrance-Knight. "We are going […]
Hours of Operation
9:00 AM — 5:00 PM | Monday — Friday
Admission is free
Location & Map
513 Prairie Street, Winnsboro, LA 71295
Get directions »
Upcoming exhibits
May 19, 2016 — July 22, 2016
Textiles by Jane Hartfield

August 18, 2016 — November 4, 2016
To be announced…

December 1, 2016 — January 6, 2017
Oh Christmas Tree!

See archive of past exhibits »
Local attractions