Current exhibit
Louisiana Mardi Gras!
Exhibit runs: January 6, 2017 — February 10, 2017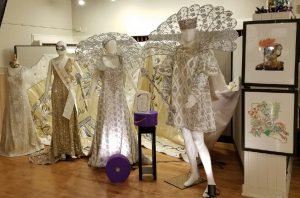 Historic downtown Winnsboro is enjoying its first taste of Mardi Gras with the current exhibit, which features magnificent costumes, art and historic memorabilia.
The elaborate display centers around 16 pieces of art painted by winners of the George Rodrigue Foundation Student Scholarship Competition, as well as elaborate costumes from the Krewe of Iris, the largest all-female carnival Krewe in New Orleans.  Visitors will also be treated to a display of historic Mardi Gras memorabilia dating back to the late 1800's from the private collection of Earle Schrader of Monroe.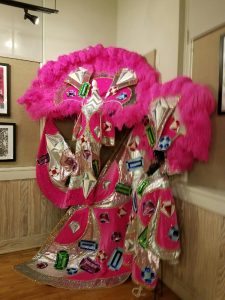 Another special attraction for the exhibit is an ensemble worn by Miss Louisiana 2017, Justine Ker, and designed by Clint Downing of Monroe for the Miss America pageant, as well as one-of-a-kind Mardi Gras Mischief dolls created by artist Connie Born of Slidell.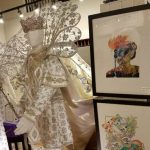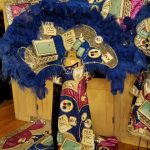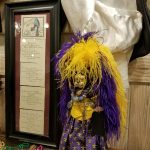 News & events
Classes in drawing, mixed media at museum
Article posted January 25, 2017 at 12:45 PM
The Old Post Office Museum will continue to offer art classes starting in February. The museum will offer classes in drawing and mixed media on Wednesdays beginning Feb. 8 and continuing through March 15. Morning sessions will be from 10 a.m. until noon. Afternoon classes are from 3-6 p.m. The classes provide opportunities for adults […]
OPOM Honor Tree Donation
Article posted November 26, 2014 at 11:59 AM
When making your list and checking it twice this holiday season, please keep The Old Post Office Museum in mind! Many people for whom you purchase gifts would truly appreciate a donation to The OPOM made in their name as a way to share in the good things happening at this unique local museum. Or, […]
Old Post Office Museum open for visitors
Article posted August 2, 2013 at 4:25 PM
After years of planning and a renovation, the Old Post Office Museum opened its doors to the public Saturday, October 2, 2010. The grand opening, from 5 to 7 p.m. at the historic downtown post office, featured an exhibition by Winnsboro artist Margaret Mays Ellerman, said Winnsboro Main Street Manager Kay LaFrance-Knight. "We are going […]
Hours of Operation
9:00 AM — 5:00 PM | Monday — Friday
Admission is free
Location & Map
513 Prairie Street, Winnsboro, LA 71295
Get directions »
Upcoming exhibits
March 23, 2017 — May 12, 2017
Flood of '27

June 1, 2017 — August 3, 2017
Requiem

August 24, 2017 — October 13, 2017
TBA

November 18, 2017 — January 5, 2018
Oh Christmas Tree!

See archive of past exhibits »
Local attractions