Current exhibit
"Color Explosion" by Jane Hartfield
Exhibit runs: May 19, 2016 — July 22, 2016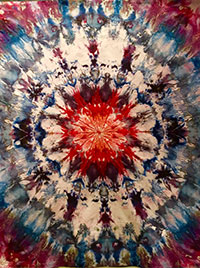 "Color Explosion," featuring the vibrant fiber art of Jane Hartfield, is the current exhibit at the Old Post Office Museum and will be on view through July 22.
Hartfield has taken classes from many famous quilt teachers and artists and has learned and used numerous techniques for working with fiber in its many forms. Over the years, she has sewn garments and costumes, embroidered, knitted, crocheted and quilted. Now she dyes fabrics and yarns, combines quilting and machine embroidery and embellishes with beads, shells and metal to produce original wall hangings.
Hartfield says of her work, "I am a contemporary artist who works with fibers…as my creations have developed over the years, it is evident that the beauty of nature and the interplay of colors are my recurring and predominant themes – not always in the same pieces!
All of the pieces I create are intended for an audience. I want them to find a home on display in both residential and commercial venues, where they may be seen, admired and hopefully treasured by others.
The daughter of the late S.E. Lee, Jr., of Winnsboro, Hartfield now resides in Fort Smith, Arkansas. This is her second exhibition at the Old Post Office Museum, the first being five years ago, shortly after the gallery's opening.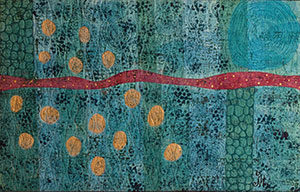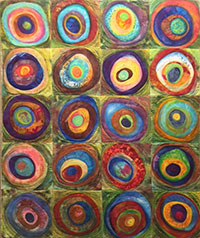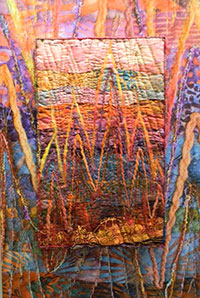 News & events
2016 Antique Car Show
Article posted March 28, 2016 at 1:34 PM
2016 Antique Car Show Saturday, April 9 – Winnsboro, Louisiana In front of Winnsboro City Hall on Highway 15! See contact information below ARRIVAL TIMES Two arrival times: 1) Arrive at North Gate along Highway 15 prior to 7:30 a.m. 2) Gather in Walmart parking lot on north end of Winnsboro for police escort promptly at […]
OPOM Honor Tree Donation
Article posted November 26, 2014 at 11:59 AM
When making your list and checking it twice this holiday season, please keep The Old Post Office Museum in mind! Many people for whom you purchase gifts would truly appreciate a donation to The OPOM made in their name as a way to share in the good things happening at this unique local museum. Or, […]
Old Post Office Museum open for visitors
Article posted August 2, 2013 at 4:25 PM
After years of planning and a renovation, the Old Post Office Museum opened its doors to the public Saturday, October 2, 2010. The grand opening, from 5 to 7 p.m. at the historic downtown post office, featured an exhibition by Winnsboro artist Margaret Mays Ellerman, said Winnsboro Main Street Manager Kay LaFrance-Knight. "We are going […]
Hours of Operation
9:00 AM — 5:00 PM | Monday — Friday
Admission is free
Location & Map
513 Prairie Street, Winnsboro, LA 71295
Get directions »
Upcoming exhibits
August 18, 2016 — November 4, 2016
To be announced…

December 1, 2016 — January 6, 2017
Oh Christmas Tree!

See archive of past exhibits »
Local attractions