Current exhibit
Oh Christmas Tree!
Exhibit runs: November 12, 2016 — December 27, 2016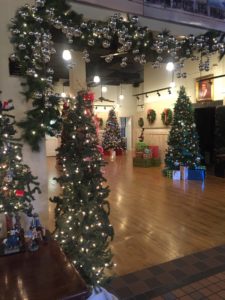 "Oh Christmas Tree!" will be opening on November 12th and go until December 26th.
A Christmas wonderland featuring trees and holiday splendor decorated by businesses and organizations in the community. Always a treat!!  Come and see what "Oh Christmas Tree" 2016 has in store!!!
News & events
2016 Antique Car Show
Article posted March 28, 2016 at 1:34 PM
2016 Antique Car Show Saturday, April 9 – Winnsboro, Louisiana In front of Winnsboro City Hall on Highway 15! See contact information below ARRIVAL TIMES Two arrival times: 1) Arrive at North Gate along Highway 15 prior to 7:30 a.m. 2) Gather in Walmart parking lot on north end of Winnsboro for police escort promptly at […]
OPOM Honor Tree Donation
Article posted November 26, 2014 at 11:59 AM
When making your list and checking it twice this holiday season, please keep The Old Post Office Museum in mind! Many people for whom you purchase gifts would truly appreciate a donation to The OPOM made in their name as a way to share in the good things happening at this unique local museum. Or, […]
Old Post Office Museum open for visitors
Article posted August 2, 2013 at 4:25 PM
After years of planning and a renovation, the Old Post Office Museum opened its doors to the public Saturday, October 2, 2010. The grand opening, from 5 to 7 p.m. at the historic downtown post office, featured an exhibition by Winnsboro artist Margaret Mays Ellerman, said Winnsboro Main Street Manager Kay LaFrance-Knight. "We are going […]
Hours of Operation
9:00 AM — 5:00 PM | Monday — Friday
Admission is free
Location & Map
513 Prairie Street, Winnsboro, LA 71295
Get directions »
Upcoming exhibits
January 6, 2017 — February 13, 2017
Louisiana Celebrates Carnival

March 2, 2017 — May 12, 2017
Flood of '27

June 1, 2017 — August 3, 2017
Requiem

August 24, 2017 — October 13, 2017
Textile Art of Dorothy Williams

November 18, 2017 — January 5, 2018
Oh Christmas Tree!

See archive of past exhibits »
Local attractions