Past exhibits
The Old Post Office Museum has proudly hosted many excellent exhibits. Check below to see an archive of past exhibits.
Looking for current and upcoming exhibits?
Native Louisiana Artist Glenda Kinnison Smith
Exhibit ran: January 30, 2019 — March 8, 2019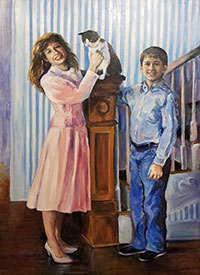 Native Louisiana artist Glenda Kinnison Smith is best known for her portraits that seem to capture the spirit as well as the physical appearance of her subjects. Her paintings are owned and treasured throughout the United States.
She is very well known in Franklin Parish, where she lived, worked and painted from 1955-1990, as Glenda Jones, artist and owner of The Gallery House in downtown Winnsboro.
The exhibit, appropriately called Old Friends, focuses on portraits Smith painted of many children and grandchildren of Winnsboro-Franklin Parish from 1960 through the 1990s.
Of the show, Smith said, "Many Franklin Parish people have graciously allowed us to use their paintings for this exhibit. I am so excited to see old friends (and their children, all grown now), and to see the paintings once again."
Smith attended the University of Louisiana, Monroe, Louisiana Tech, University of Marseilles, Aix en Provence, France (a special workshop study of Cezanne), and studied under Don Cincone, as well as many other master artists. She has shown in galleries in New Orleans, Baton Rouge, Covington, Natchitoches, Alexandria and Monroe, as well as Georgetown, Grand Cayman, and has won several best of show awards over her 50+-year career.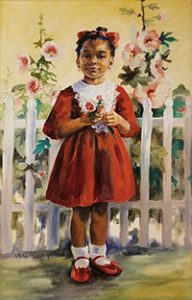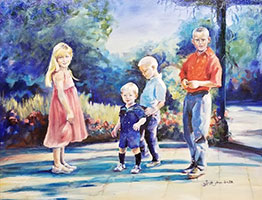 Oh Christmas Tree!
Exhibit ran: November 17, 2018 — January 4, 2019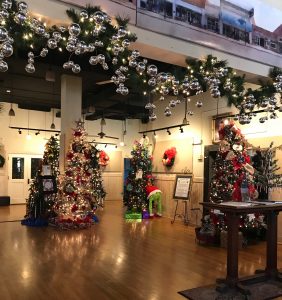 "Oh Christmas Tree" opens on November 17th and will go until January 4th, 2019. A Christmas wonderland featuring trees and holiday splendor decorated by businesses and organizations in the community. Always a treat!! Come by and vote for your favorite tree! Winner to be announced Christmas week.
Also, consider an placing an ornament on the Honor Tree to honor or remember someone special.
The Art of Tony Forrest
Exhibit ran: August 30, 2018 — October 19, 2018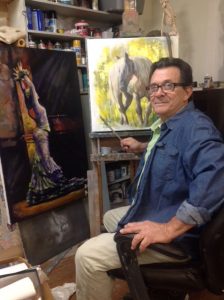 Tony is a native of Greensboro, NC. In 2006 he left a construction career to give full attention to his passion for art which he has never regretted. The lure of the majestic Smokey Mountains, rural farm lands, and eastern coastal regions of his home state called to him as it had many other artists of the area. One of the greatest highlights of his experience there was when the NC Bar Association selected him to paint a portrait of Andrew Jackson for the city's bicentennial celebration. This painting hangs in the Guilford County courthouse where Jackson was sworn into the practice of law. He has since received several prestigious commissions for clients including US tennis professional John Isner. Forrest and his wife Martha now enjoy living in Alexandria, LA where they are strongly involved in the art community.
"The wise man stated that the journey is its own reward. To the artist, the process of making art transcends the tangible product."
— Tony Forrest
The Art of Cooper Michael French
Exhibit ran: June 21, 2018 — August 4, 2018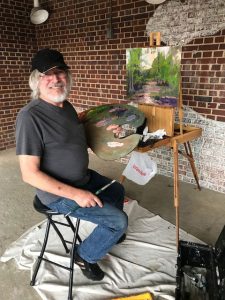 A self-instructed artist from Meridian, MS, French now says every day that he is "living his dream," painting people and places he has met since his retirement as a foreman overseeing restoration of murals and paintings at the White House Center in Washington, D.C.
During his tenure in the nation's capitol, he was responsible for renovations to the President's Guest House and the interior of the East and West Wings of the White House, among other noted offices. He also helped renovate The Roosevelt Room in the West Wing, The Press Briefing Room, the Oval Office and the Cabinet Room.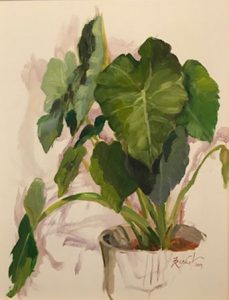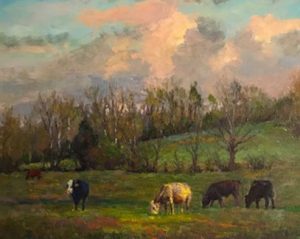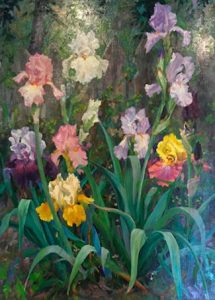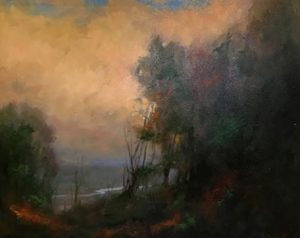 The Art of Walter Anderson
Exhibit ran: March 20, 2018 — May 18, 2018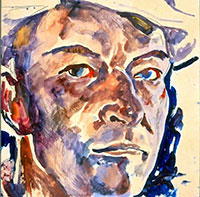 "There once was a man whose love of nature was as wide as the world. There once was an artist who needed to paint as much as he needed to breathe. There once was an islander who lived in a cottage at the edge of Mississippi where the sea meets the earth and the sky.
His name was Walter Anderson. Art was an adventure and Walter Anderson was an explorer first class."
This exhibit is an overview of a man who many have called the greatest artist the south has ever produced. He was an American master in watercolor, and speaks perhaps more than any other of the relationship between man, art and nature.
The exhibit also features a project by gifted art students in Franklin Parish…their interpretation of water and wildlife. We are thrilled with this partnership and are grateful for their interest in and dedication to art. Their assistance throughout this exhibit has been invaluable.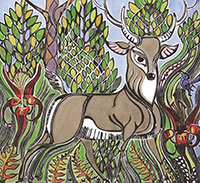 The Art of Stacy Thomas Medaries
Exhibit ran: January 25, 2018 — March 2, 2018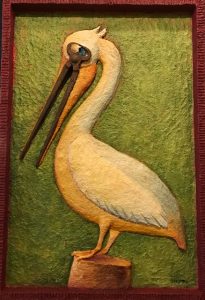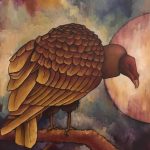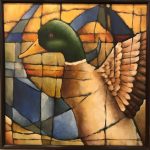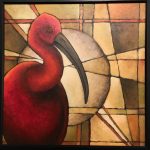 History, myth and spirituality are just a few of the themes featured by Monroe artist Stacy Thomas Medaries in the current exhibit at the Old Post Office Museum.
The exhibit, which includes a variety of media, showcases imaginative creatures and images using old discarded materials and paper pulp. Once these have been sculpted, she paints them with acrylic, resulting in work that is fun, playful and very colorful. The show also includes paintings with alcohol ink on sculpted aluminum, which she says reminds her of books and art of the Middle Ages.
Medaries was born in Monroe and received her Bachelor's Degree in Studio Art and her Master's Degree in Ceramic Sculpture from Louisiana Tech. Upon graduation, she began her teaching career, first with the Talented Arts Program in the Ouachita Parish School system, then later as the first art instructor at Louisiana Delta Community College. She currently teaches Art Appreciation, Beginning Drawing, Ceramics, Design and Art History at Delta.
Stacy Thomas Medaries has continued to pursue her career as an artist and has exhibited works in several juried exhibitions and gallery shows throughout Louisiana, Texas, Arkansas and Mississippi.
The exhibit will continue until March 2. For further information, contact the Old Post Office Museum at 435-3781.
Oh Christmas Tree!
Exhibit ran: November 18, 2017 — January 5, 2018
"Oh Christmas Tree!" will be opening on November 18th and go until January 5th.
Kept in Stitches
Exhibit ran: August 25, 2017 — October 20, 2017
"Kept in Stitches" Featuring Quilts and Wearable Art By Dorothy Williams. August 25 – October 20, 2017. Opening reception August 24, 5-7 pm
A graduate of LA Tech, Dorothy Williams was a Circuit Teacher for the Gulf Coast Quilting Association and taught for the Sunshine State Quilting Association in Florida. She also taught at the International Quilt Festival in Houston, TX, and at national conventions for the American Sewing Guild in Dallas, TX, and Washington, DC, among others. Her garments have been winning entries in the International Quilt Festival in Houston, the Hobbs Fashion Show in Paducah, KY, the Dallas Quilt Celebration, the National Quilt Association, The Pennsylvania National Quilt Celebration and the Mid-Atlantic Wearable Art Festival.
Greg Cartmell Collection
Exhibit ran: June 1, 2017 — August 3, 2017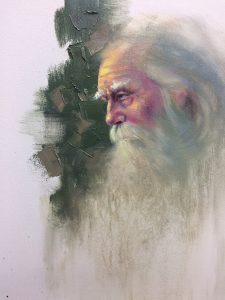 A professional artist for over 45 years, Greg Cartmell is nationally recognized as one of the country's foremost landscape painters. Cartmell's works are in private and corporate collections throughout the world and he has been published in numerous journals, such as Art & Antiques, Architectural Digest and Mississippi Magazine.  He is also known for his portraits and has done many noteworthy commissions, including Former First Lady Barbara Bush, U.S. Senator John Stennis and Mississippi Governor Haley Barbour.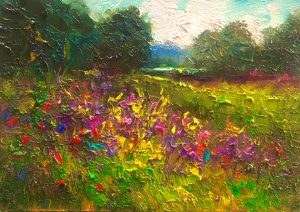 Greg Cartmell paints en plein air, meaning in the tradition of on-location painting, directly from nature. A true impressionist, Cartmell paints in broken color, inviting the viewer to mix the color with one's own eye.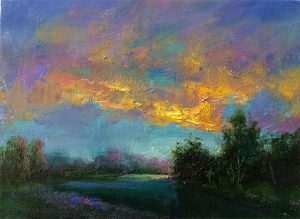 Cartmell lives in Meridian, MS, where he has a studio and teaches art to adults. He will be conducting a workshop at the Old Post Office Museum in Winnsboro, LA on July 1, during his exhibit there. Details will be announced soon.
Flood of '27
Exhibit ran: March 23, 2017 — May 19, 2017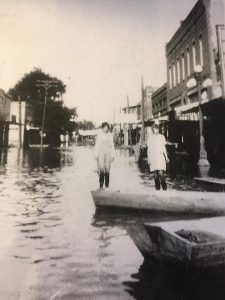 This exhibit is sponsored by the Franklin Parish Catfish Festival.
In the spring of 1927, months of heavy rain caused the Mississippi River to begin to flood. By the time the river crested, 23,000 square miles of land were inundated, hundreds of thousands of people were displaced, and an estimated 250 people died. This exhibit commemorates the 90th anniversary of what is considered one of the worst disasters in United States history.
Special thanks to the U.S Army Corps of Engineers, Vicksburg District; Schepis Museum, Columbia, LA, Franklin Parish Library; and the many friends who shared their treasured stories and photographs.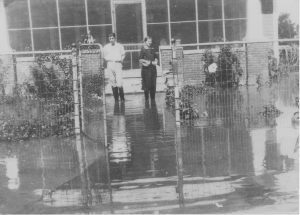 Hours of Operation
9:00 AM — 5:00 PM | Monday — Friday
Or call for appointment
Admission is free
Location & Map
513 Prairie Street, Winnsboro, LA 71295
Get directions »