News & Events
The Pelican State Goes to War: Louisiana in World War II
Posted on March 20, 2019 at 11:23 AM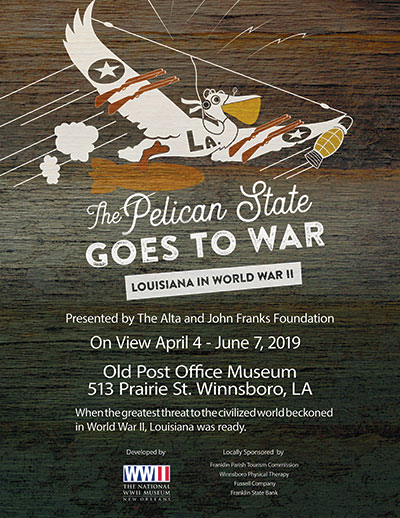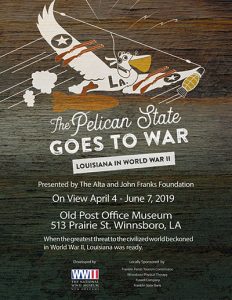 Exhibit opening reception is Thursday, April 4, 2019 from 5:oopm – 7:00pm.
Presented by The Alta and John Franks Foundation. When the greatest threat to the civilized world beckoned in World War II, Louisiana was ready. Massively important production, crucial military training, and enthusiastic citizens saw Louisiana at the forefront of US defense preparations. See how Louisiana helped achieve victory in World War II—and how the war that changed the world forever changed Louisiana, too.
Many thanks for our local sponsors: Franklin Parish Tourism Commission, Franklin State Bank, Fussell Company, and Winnsboro Physical Therapy.
Hours of Operation
9:00 AM — 5:00 PM | Monday — Friday
Or call for appointment
Admission is free
Location & Map
513 Prairie Street, Winnsboro, LA 71295
Get directions »