News & events
Keep in touch with what's going on around The Old Post Office Museum. We'll post the latest news and events on this page regularly.
Classes in drawing, mixed media at museum
Article posted January 25, 2017 at 12:45 PM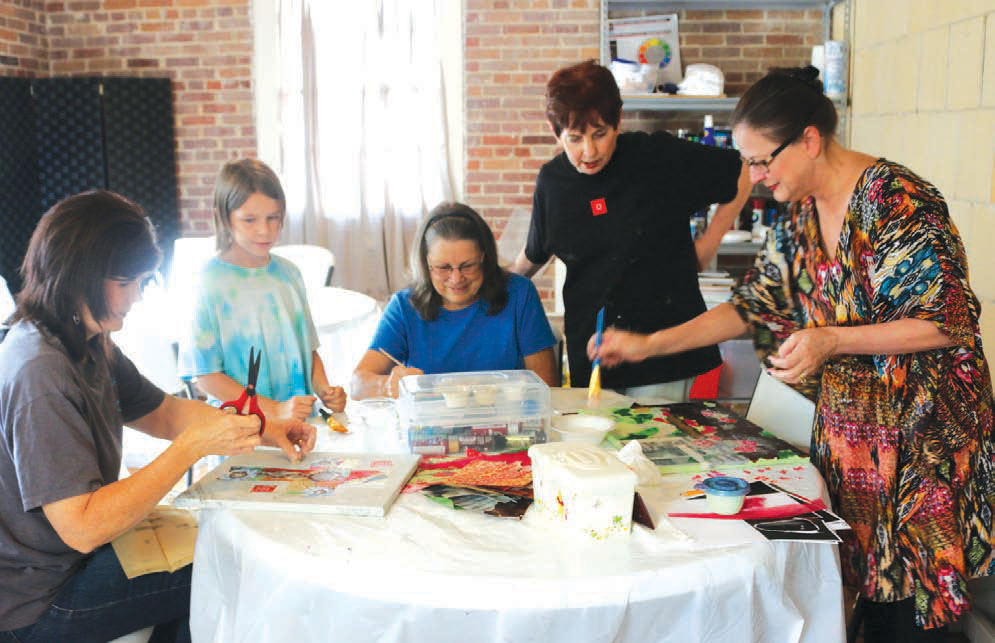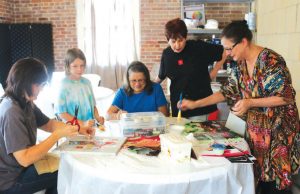 The Old Post Office Museum will continue to offer art classes starting in February.
The museum will offer classes in drawing and mixed media on Wednesdays beginning Feb. 8 and continuing through March 15. Morning sessions will be from 10 a.m. until noon. Afternoon classes are from 3-6 p.m. The classes provide opportunities for adults and young people alike.
Winnsboro artist Margaret Ellerman will serve as instructor. Ellerman is continuing her popular series of instruction with the drawing class designed for adults, high school and junior high students.
Drawing students will work on gaining skills in sketchbooks in pencil, pen and ink, charcoal, etc. The class will work from real life and from drawings and photos.
No previous talent is necessary, just an interest in producing original drawings with more skill than you had before.
The Mixed Media Painting class is for persons age 12 years and up. but younger students, ages 8-11 may also participate if accompanied by an adult student.
The Mixed Media course will include two completed paintings on canvas in six weeks. Mixed Media is a fun way to paint using acrylics, words, decorative papers, newspaper, ink, pencil, stencils, etc., all working together as a completed painting.
Again, no previous skills are needed.
The cost to attend the classes is $100 each. A portion of the proceeds go to benefit the Old Post Office Museum and for some of the supplies used in the classes.
For more information, contact the museum at 435-3781, or Margaret Ellerman at 435-7676. You may also contact Ellerman via message on Facebook, or email [email protected].
OPOM Honor Tree Donation
Article posted November 26, 2014 at 11:59 AM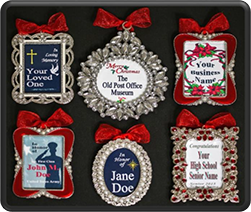 When making your list and checking it twice this holiday season, please keep The Old Post Office Museum in mind!
Many people for whom you purchase gifts would truly appreciate a donation to The OPOM made in their name as a way to share in the good things happening at this unique local museum. Or, maybe you would like to provide a gift donation in honor or in memory of a loved one or friend; or you wish to recognize your business, a student, military service member or other group or individual. It's a very special way to do something nice for friends or family.
This year The OPOM is displaying a special Christmas tree to honor the generosity of our local and extended communities who support the projects and services offered by our Museum through their heartfelt contributions. For each $50 or greater donation made during the months of November and December, a frame ornament will be placed on the tree in recognition of the individual, business, or group in whose name the donation was made.
Making a donation to The OPOM is a perfect way to show friends, family members, a student, military service member, favorite organization and co-workers that you are thinking about them. Whether you make a donation instead of purchasing a traditional gift or as an add-on, this is a truly thoughtful opportunity to spread a message of cheer and charitable giving that will last far beyond the holiday season.
Remember, your donation to the Old Post Office Museum is tax deductible, and it's easy to set up a charitable gift for the people on your list who will appreciate such an expression of generosity. Simply complete the enclosed form, enclose your check for the appropriate amount and send it back to the Museum. Or, we'd love for you to stop by the OPOM any day, Monday – Friday from 9 a.m. to 4 p.m., to view the current Christmas exhibit and make your donation in person.
Once you have purchased your gift donation, we'll provide you with a lovely certificate for your gift-giving purposes that showcases the donation amount and the name of the person in whose name the donation was made. A limited number of ornaments will be available for placement on the tree so we urge you to please commit your donation as soon as possible. All donations will go to support future exhibits and projects of the local Old Post Office Museum.
Merry Christmas, and best wishes to you and your loved ones at Christmastime and throughout the coming new year!
Download the OPOM Honor Tree Form here
Friends of the Old Post Office Museum
Old Post Office Museum open for visitors
Article posted August 2, 2013 at 4:25 PM
After years of planning and a renovation, the Old Post Office Museum opened its doors to the public Saturday, October 2, 2010.
The grand opening, from 5 to 7 p.m. at the historic downtown post office, featured an exhibition by Winnsboro artist Margaret Mays Ellerman, said Winnsboro Main Street Manager Kay LaFrance-Knight.
"We are going to have a reception and show off the museum to everyone. The museum will be open to the public at the reception at no charge," she said.
Members of the community are also invited to become a "friend" of the Old Post Office Museum by renting their old post office boxes, or adopting a different or additional box, for two years. Friends of the museum will have their name and box number displayed on the museum wall. In this way, the community can help sponsor future exhibits and activities of the museum.
Donations are classified according to box size: Postcard, $50; letter carrier, $125; first class, $250; and priority mail, $500.
Patrons may also sponsor various interior and exterior furnishings, as well as exhibits.
Plans for the facility have been developing since 2001 to reopen the old post office, which dates to 1936, as a museum. The $250,000 project was financed by capital outlay money from the state Legislature.
Plans are being made for future exhibits, such as "Toys in the Attic," which should open December 2, 2010.
The exhibit will feature antique toys donated by local residents, LaFrance-Knight said.
Those who would like more information or would like to donate toys for the event can do so by calling 435-3781.
Kay LaFrance-Knight presented 2011 Special Award of the Year
Article posted February 21, 2012 at 4:13 PM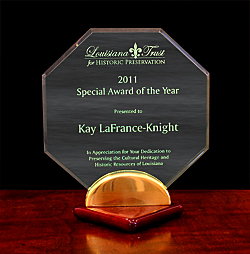 Museum curator Kay LaFrance-Knight was presented the 2011 Special Award of the Year by the Louisiana Trust for Historic Preservation for "preserving the cultural heritage and historic resources of Louisiana." The award was presented in recognition of the preservation by the community of the Old Post Office Museum.
Hours of Operation
9:00 AM — 5:00 PM | Monday — Friday
Or call for appointment
Admission is free
Location & Map
513 Prairie Street, Winnsboro, LA 71295
Get directions »