Upcoming exhibits
The Old Post Office Museum is proud to host a number of excellent exhibits all year. Check below to see our current schedule of exhibits.
Looking for the past exhibits archive?
Current exhibit
I Do I Do
Exhibit runs: January 16, 2020 — February 28, 2020
The Old Post Office Museum presents
"I Do, I Do"
January 16, 2020 — February 28, 2020
An exhibit of wedding dresses and memorabilia from the Franklin Parish community dating at least 25 years ago (1995 or before). Some of the pictures are more recent.
Thank you to the many brides and families who shared these precious memories.
The exhibit is presented in partnership with The Princess Theatre.
Make plans to attend their production of the musical "I Do, I Do" on February 13, 14, and 15.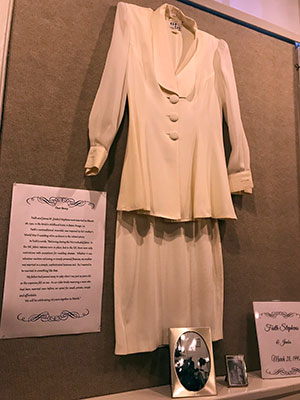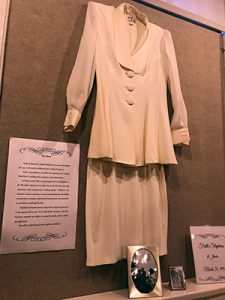 The exhibit includes more than 30 wedding dresses loaned by Franklin Parish brides. The cherished garments include styles which create a fashion timeline from the 1940s to 1990s.
Kay LaFrance-Knight, museum curator, said the local collaboration is one she has been eager to have the museum participate in.
"This is kind of a dream come true for me," she said. She said this type of exhibit is special because of the local connection.
"It is a special kind of exhibit in that it involves the whole community and is about the whole community," she said.
Wedding gowns and dresses, which include styles ranging from traditional to modern and long to short, had to be at least 25 years old, and had to have a strong Franklin Parish connection. Each gown comes with its own story.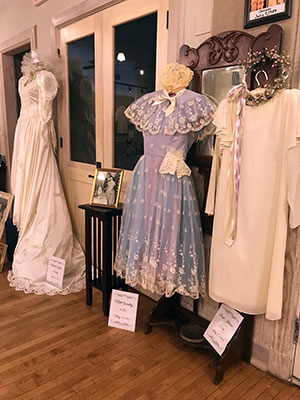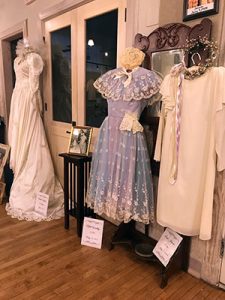 One such story is that of the wedding gown sewn by the late Mary Radau. On display next to the gown is the sewing machine on which the gown was sewn. The sewing machine is on loan from Paul Price Jr., who is Mrs. Radau's grandson. The gown was fashioned for Benise Jennings, nee Walley, for her Jan. 19, 1973 wedding to Charlie Ray Jennings Jr.
The couple were married at St. Mary Catholic Church. Snowfall greeted the newlyweds as they left the church.
Family connections are a part of some of the groupings in the collection on display. For example, a display which includes the gown worn by Ginger Scriber for her wedding to Cloid White also includes the dress worn by her mother, the late Mary Virginia Scriber, on Aug. 4, 1942. Mrs. Scriber's dress is the oldest in the exhibit.
The wedding gown worn by Marguerete McLemore (wife of James McLemore) is presented along with a dress worn by her sister as maid of honor and the dress worn by the groom's mother, Nell McLemore, for the Aug. 7, 1966 wedding.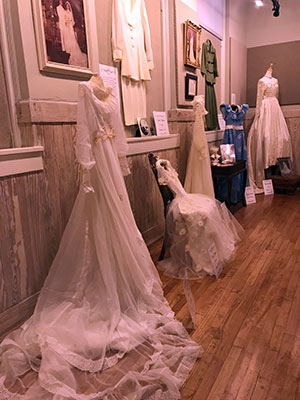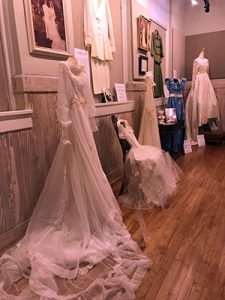 In another grouping, the dress worn by the late Mary Kiper of Wisner is on display along with the gowns worn by her daughters-in-law, DeAnne Kiper and Lisa Kiper.
The gown worn by Leslie Martin Young when she married Jesse Young, also of Wisner, is displayed nearby. Young wore the gown which had been worn by her mother, Pat, when she married Lesley's father, J. H. Martin, Jan. 21, 1961. Mr. Martin passed away recently, just short of the couple's 59th anniversary.
Other gowns were also worn by second generations.
Betsey Lowe Shirley wore her mother Lisa Lowe's gown for her wedding on Aug. 22, 2017. Her mother wore the gown on Aug. 9, 1980. Ann McIntyre's gown from her Aug. 3 1974 wedding was also worn by her daughters, Meredith McIntyre Marshall and Marsha McIntyre Spell.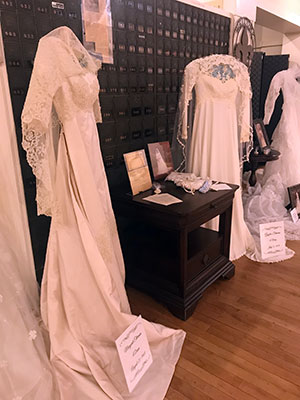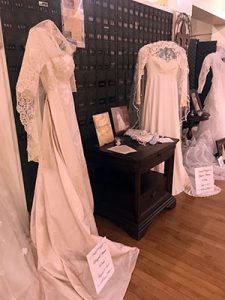 In addition to the wedding dresses, there are also wedding photographs and albums on display. Among the photographs is one of Monica Dumas on her wedding day. The newly wed Mrs. Dumas appears in the photo with her husband John "Sonny" Dumas, who is now mayor of Winnsboro.
Also included in the photo collection are those from more recent weddings and receptions which have been hosted at the Old Post Office Museum.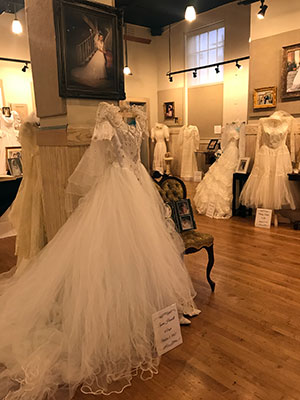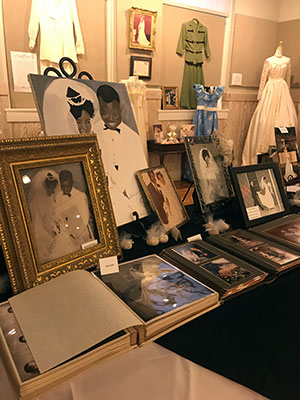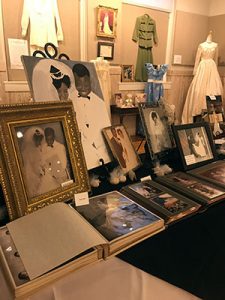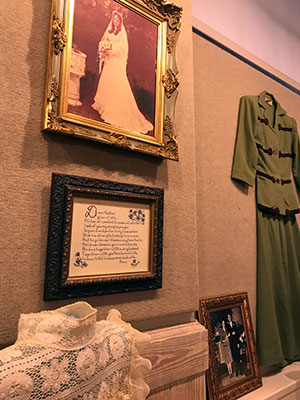 Perennial exhibits
Historic Mural

Painted in 1939 by Datus E. Myers, called "Logging in the Swamps." It is one of one thousand murals that was commissioned for new post office buildings between 1934 – 1943 as part of the Works Progress Administration (WPA) and the Federal Arts Project. Typically they were painted for the purposes of "community uplift," and dominant themes included the celebration of local farm life, technological optimism, historical scenes and community cooperation. More often than not, people are shown coming together to survive one of the hardest economic periods in American history.
"Logging in the Swamps" is a tribute to the time when Franklin Parish was timber country, and depicts two loggers, standing in flatbottom boats, working a cross-cut saw to fell a tree.
The Vault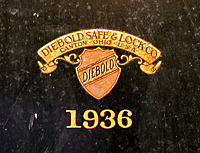 Within the vault are historic treasures of Franklin Parish, including the scrapbooks of Nell McLemore, which were donated to the museum by the McLemore family, as well as artifacts and snapshots of the past. Those making historic donations to the museum can rest assured that their treasures will be preserved and perhaps utilized in future exhibits.
A desk and study area has been arranged in the vault, where visitors can read and research at their leisure.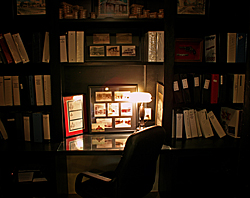 Handpainted Louisiana Flag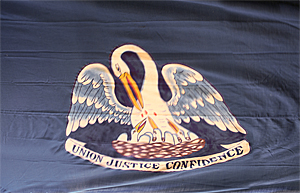 A large 10' by 6' Louisiana flag is now displayed in the lobby. It was a donation from Jimbo Stephens' family. Was originally handpainted in the late 20's, early 30's by Angola inmates and presented to Governor Huey Long, who later gave it to Governor Earl Long, then John McKeithen, then Sheriff A.J. Stephens.
Hours of Operation
9:00 AM — 5:00 PM | Monday — Friday
Or call for appointment
Admission is free
Location & Map
513 Prairie Street, Winnsboro, LA 71295
Get directions »