News & Events
OPOM Honor Tree Donation
Posted on November 26, 2014 at 11:59 AM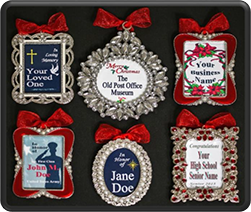 When making your list and checking it twice this holiday season, please keep The Old Post Office Museum in mind!
Many people for whom you purchase gifts would truly appreciate a donation to The OPOM made in their name as a way to share in the good things happening at this unique local museum. Or, maybe you would like to provide a gift donation in honor or in memory of a loved one or friend; or you wish to recognize your business, a student, military service member or other group or individual. It's a very special way to do something nice for friends or family.
This year The OPOM is displaying a special Christmas tree to honor the generosity of our local and extended communities who support the projects and services offered by our Museum through their heartfelt contributions. For each $50 or greater donation made during the months of November and December, a frame ornament will be placed on the tree in recognition of the individual, business, or group in whose name the donation was made.
Making a donation to The OPOM is a perfect way to show friends, family members, a student, military service member, favorite organization and co-workers that you are thinking about them. Whether you make a donation instead of purchasing a traditional gift or as an add-on, this is a truly thoughtful opportunity to spread a message of cheer and charitable giving that will last far beyond the holiday season.
Remember, your donation to the Old Post Office Museum is tax deductible, and it's easy to set up a charitable gift for the people on your list who will appreciate such an expression of generosity. Simply complete the enclosed form, enclose your check for the appropriate amount and send it back to the Museum. Or, we'd love for you to stop by the OPOM any day, Monday – Friday from 9 a.m. to 4 p.m., to view the current Christmas exhibit and make your donation in person.
Once you have purchased your gift donation, we'll provide you with a lovely certificate for your gift-giving purposes that showcases the donation amount and the name of the person in whose name the donation was made. A limited number of ornaments will be available for placement on the tree so we urge you to please commit your donation as soon as possible. All donations will go to support future exhibits and projects of the local Old Post Office Museum.
Merry Christmas, and best wishes to you and your loved ones at Christmastime and throughout the coming new year!
Download the OPOM Honor Tree Form here
Friends of the Old Post Office Museum
Hours of Operation
9:00 AM — 5:00 PM | Monday — Friday
Or call for appointment
Admission is free
Location & Map
513 Prairie Street, Winnsboro, LA 71295
Get directions »